All you Need to Know About Car Checks in Ireland

Car History Checks
Purchasing a new car is a pretty straightforward process — you research different models, shortlist a few that appeal to you, take the shortlisted cars on test drives, and buy the one you like the most. But this is not the case with pre-owned cars. Many people are now choosing to purchase used cars, simply because they are a lot less expensive than brand new models. But if you're not careful, you could end up purchasing a lemon! The only way to avoid this is by running a car check.
Why is a car check necessary when purchasing a used car?
Purchasing a car, even if it's pre-owned, can be expensive. Car buyers who purchase a used car from a dealership usually have some amount of legal protection. For instance, in Ireland, car dealers are only allowed to sell you a used car if it is of reasonable quality and is in a roadworthy condition. However, if you are purchasing a car from a private seller, you really have no legal protection, because the seller is an individual and not a trader.
In this case, running a car history check is mandatory. But even otherwise, there are numerous unscrupulous dealers who sell problematic cars by posing to be private sellers, so it's best to use an independent car checker tool regardless of how you decide to purchase your vehicle. Here are three key reasons why you need to do a car check before purchasing a used car.
Safety: If a car has been clocked or badly damaged, the insurance company may have written it off and provided compensation to the car owner. While such a car should, ideally, be disposed of, many owners choose to sell these vehicles for a discounted price, making it seem like they're offering you a great deal. The problem is that a car that was previously heavily damaged can be unsafe to drive. Unless you perform a car check, there's no way for you to ascertain that the car is not one such vehicle.

Outstanding finance: When an individual purchases a car on loan, the car essentially belongs to the lender until the loan amount has been cleared in full. If the owner of a car that has outstanding finance on it sells it to an unsuspecting buyer, the buyer will be held responsible for repaying the loan even if they've paid the full asking price for the car. Unless you pay the bank whatever the previous owner owed on it, the car could be seized by the financial institution for non-payment of dues. In this case, not only have you lost your money, but you've also lost your mode of transport.

Taxi/hackney: We don't need to tell you that the better a car is maintained, the longer it's going to last. This is especially important when you are buying a used car since you don't want to purchase a car only for it to lose all functionality in a few years. Given this, it's best to purchase a car that's only been used for personal purposes, and not a vehicle that has been used as a cab or hackney, because in the case of the latter, it's safe to assume that the driver may not have been too invested in its upkeep. This is a problem especially for cars that are imported from the UK since car buyers in Ireland would often not check if the car was used as a cab or hackney. Fortunately, by using MyVehicle.ie's car checker tool, you can tell if the vehicle was used as a cab.
There are several other pertinent details that the car check report will tell you about the condition of the vehicle and who it was owned by. While the report may cost a few Euros, it's well worth the trouble you'll be saving yourself by not purchasing a car that's really not meant to be driven.
Things to consider before going for a car check
Before you opt for a car check report, there are certain things you'll need to take into consideration. Here they are:
Your needs: Does the vehicle really suit your needs? For instance, if you travel long distances, make sure to check if the car offers decent fuel efficiency. If not, you may want to consider other options.

Documentation: Before you take the car for a test drive or do a car history check, ask the seller to send you a copy of the vehicle registration certificate. If you are importing the car from the UK, make sure to ask for the V5C. These documents should be in the possession of the owner, and it's vital to ask for them if you are purchasing privately.

Condition of the vehicle: Next, it's important that you arrange to see the car personally. During your visit, make sure to inspect both the interior and exterior of the vehicle. Ideally, you should bring a torch as well as a magnifying glass with you. And, always inspect the car in daylight. If the car is dirty, request the seller to clean it so you have a real idea of how it looks. During your inspection, check if there are any signs of gaps between the panels, if the paint is even across the body, if the panels are aligned, etc. Similarly, check the inside of the car. Ensure that the seatbelts lock and that all the tech functions normally. Also, look at the condition of the upholstery and assess if it needs to be changed since that could cost you some money as well. Any foul odours are also a red flag since it can be extremely difficult to get odours out.

Take the car for a test drive: When buying a used car, it's important that you don't sign on the dotted line without taking the vehicle for a test drive. It's best to take the vehicle for a drive that's at least 20 minutes long, along with the types of roads you are likely to travel on a daily basis, so you get an actual idea of how it feels to drive. During the drive, check if you hear any abnormal sounds or smells, if there is excess emission, and if the car handles and drives smoothly. Hit the breaks a few times to check how quickly the car comes to a halt.

Take a look at the service books: Ask the car seller to show you all the service books so you know how often it was serviced and where and when the last service was done. Note the mileage as well and check the place where it was serviced so you can call the service centre to confirm the reading. Remember that vehicle odometers are often clocked and this is a major safety concern because the vehicle may not have been serviced as frequently should have been.
If all these details check out, you can proceed to making a note of the registration number and checking the comprehensive history of the car by obtaining a car check report on MyVehicle.ie.
How to obtain a car check report
You can get a car check report through the MyVehicle.ie website. All you need to do is enter the registration number of the vehicle to obtain a free report. And, for a nominal charge, you can get your hands on a comprehensive car history check report, which includes a full vehicle identity check, insurance write-off check, imported vehicle check, current iCAP valuation, Irish finance check, damage alert, stolen car check, usage as a taxi/hackney check, and several other unique details.
MyVehicle.ie sources data from independent, trusted sources which include financial institutions and other key auto bodies, so you can rest assured that your report will include the most accurate and relevant details, which will be presented to you in an easy-to-comprehend format.
A MyVehicle.ie car check report can be used as a key tool to avoid purchasing a vehicle that offers undesirable performance.
What to do once you have the car check report?
Once you have the car check report from MyVehicle.ie, it's important that you cross-check all the details on the report with the vehicle documentation as well as any other verbal details that the seller provides you. For instance, if the car check report indicates that the colour of the car was blue at the time of purchase and you now notice that the car is red, make sure to investigate further since a paint job could have been done to hide damages to the body of the vehicle. Similarly, if the vehicle owner states that they are the first owner of the car, but the report indicates that the car has changed multiple hands, you may want to walk off from the deal to safeguard yourself.
Author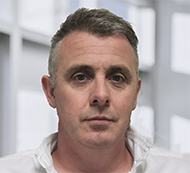 Justin Kavanagh
Justin Kavanagh is a recognised leader in automotive intelligence and vehicle data supply to the entire motor industry. He has almost 20 years experience in building systems from the ground up. As the Managing Director of Vehicle Management System, he understands the need and importance of trustworthy and reliable vehicle history and advice to both the trade and the public.
Follow me on LinkedIn
---