CarTube - London Underground for Cars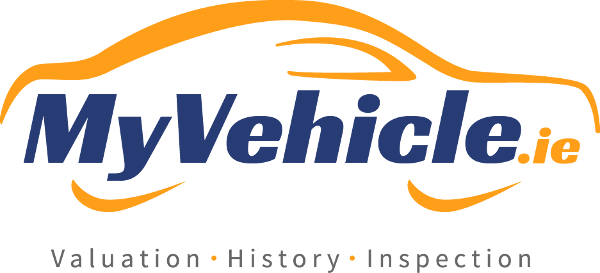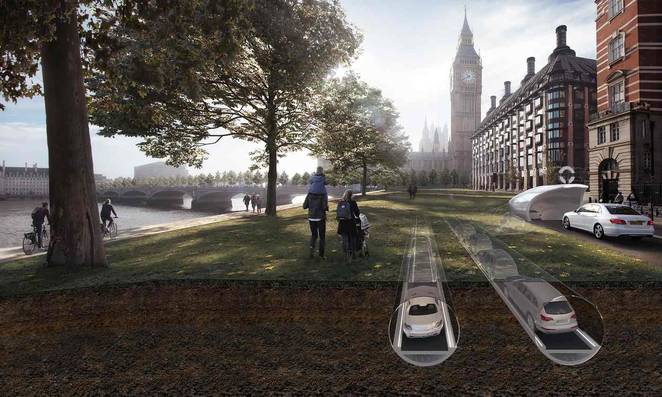 London-based architectural firm PLP has come up with an ingenious proposal to move all cars into an underground tube system they are dubbing 'CarTube'. Dreamt up by Lars Hesselgren and the PLP research team, the 'Car Tube' concept reflects the company motto, "Streets are for people, not cars."
The proposed underground system for cars would have the effect of reclaiming the streets for people and moving all traffic out of sight and underground, quite like the world famous London Underground Tube.
The proposal, if ever realised would see a network of constantly moving tracks in small-bore tunnels which would create a safe space at ground level for pedestrians and bicycles.
The tunnels would obviously not contain regular combustion engined cars but would be filled with technologically advanced electric and autonomous vehicles which would convey in a train-like manner, either in an electronic train or a conveyance track like a conveyor belt on an airport carousel.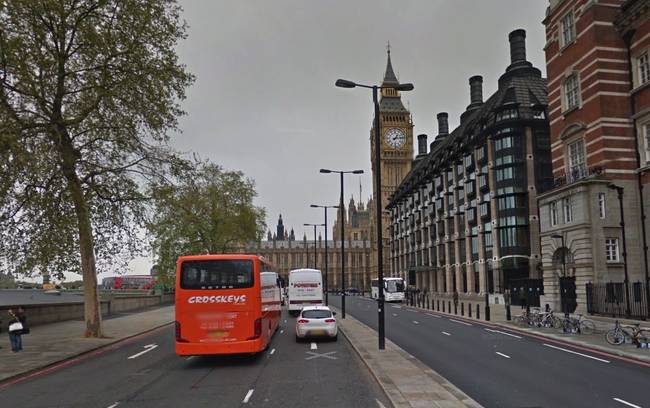 As one can imagine, there would be huge infrastructural obstacles to be overcome to achieve such a vision but anything is possible. The specifics on how a network such as the 'CarTube' could be achieved is a little hazy
Under the company's plan, a motorist would decide what time they wanted to start their journey and what time to end it, they would then book a time slot on the underground network and the computerised system would do the rest.
On entering the system, the vehicles are placed at 2-meter gaps, locked into position on constantly moving tracks so accidents and delays are prevented. It sounds a lot like the Gondola lift systems in ski resorts where a constant stream of passengers can board and alight safely.
When your private car or autonomous taxi reaches its destination, you could then take a pedestrian lift to the surface while your car is left in a "car stack", quite like an underground car park with an automated valet service where your car can be returned to you automatically on your return.
PLP claim that the London Underground for cars could slash journey times by roughly a quarter of what is now possible on the overground urban road network. A car could theoretically get from Heathrow to the City of London in 14 minutes. (the same journey on Crossrail could take approximately 34 minutes)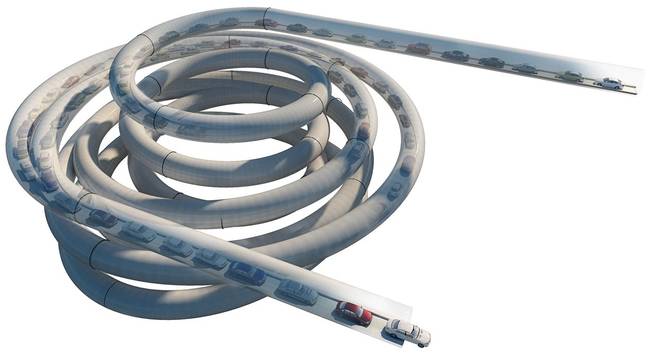 ---



The futuristic road system could replace the current "stop-start model" of urban transport with the more efficient "fluid integrated network". This interruption-free transport system is claimed by PLP to be "the next best thing to teleportation.", also stating that it will reduce urban travel time by up to 75 per cent.




Hesselgren explains. "Trains and tubes have controls; cars don't. Autonomous cars do, but they don't work well with pedestrians, cyclists and other unexpected elements. The only way you can have a high-capacity car network in a city is to have a dedicated track." He insists the idea is not repeating the "awful" underground motorways of the latter part of the 20th century.







"This is public transport," insists Hesselgren, adding that because cars on the CarTube can be continuous and closely spaced, moving at a speed of 50 miles per hour (80kmh), capacity for transporting people is higher than packed trains that come every five minutes.




Hesselgren went on to say, "London is our case study, but chances are it will get built somewhere else where people are desperate for a solution", listing Mexico City, Delhi, Jakarta and Mumbai as the sorts of gridlock-heavy cities that could benefit from the CarTube. "This kind of approach in those places could really make a difference,"



---
[maxbutton id="1"]
---