Driverless cars to be tested in London and will be launched by Christmas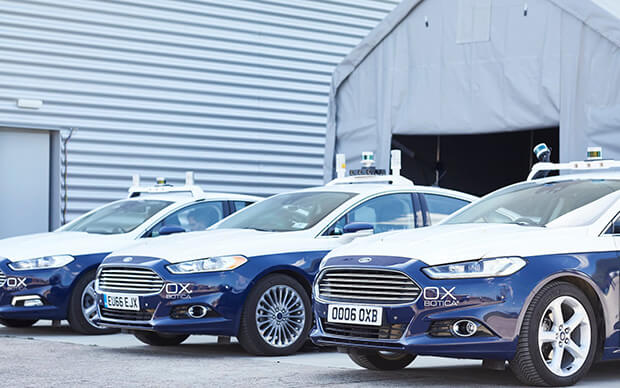 Autonomous cars are being tested on the streets of London as part of a plan to deploy the UK's first completely autonomous fleet on British roads by this Christmas.
A UK Government-backed consortium is deploying these cars to map the streets of Hounslow in West London to teach them to understand road signs and lane markings following successful tests in Oxford.
These self-driving cars will be able to share data with each other, such as warnings about road obstacles and also improving how vehicles perform under different conditions on the road.
The consortium is being led by the Oxford University spinoff Oxbotica. Their objective is to run a fleet of autonomous vehicles between Oxford and London in 2019 following tests in both cities.
The consortium, which also includes insurance provider AXA, UK registry domain Nominet and Telefonica, was awarded a £8.6 million (€9.7m) grant from Innovate UK to run the trials. The chief executive of Oxbotica, Dr Graeme Smith, said:
"These trials further demonstrate to the wider UK public that connected and autonomous vehicles will play an important role in the future of transport. This milestone shows the advanced state of our capabilities and firmly keeps us on the road to provide the technology needed to revolutionise road travel."
Oxbotica has developed their own software which they will fit to the self-driving vehicles which will control radar and a variety of other sensors, onboard computers and cameras.
Oxbotica will carry out tests on different dates and will repeat them several times on different so that cars can learn how the streets change depending on lighting conditions.
The UK Government has also just recently announced plans for the first driverless transport services by 2021, including a driverless bus service crossing the Forth Bridge to Edinburgh and self-driving taxis in four London boroughs.
Oxbotica signed a deal with taxi company Addison Lee last month to launch a driverless taxi service in the capital by 2021 and will be part of the UK Government's pilot scheme with both companies agreeing to map over 250,000 miles of public roads in an attempt to refine the Artificial Intelligence used by the taxis to avoid and anticipate obstacles.
There are more developments in the autonomous vehicle market, for example, Uber rival Lyft bought a London-based technology startup to push ahead with its own driverless car project. Lyft also bought Blue Vision Labs, a London-based firm that specialises in mapping street layouts using car-mounted smartphones.
There are great opportunities for self-driving technology to develop from the UK trials as London is classed as one of the few "mega-cities". in Europe and has some of the most challenging driving conditions in the world, caused by a combination of its complex historic road layout, congestion and poor road surfaces.
It has even been reported when Experts have warned that US manufactured driverless cars will find it difficult to operate on UK roads because they are unable to spot British vehicles like Routemaster buses and black cabs.
Volvo has also entered the fray and have said that they would also start testing self-driving cars in London but have yet to do so.
According to research carried out by MoneySuperMarket, three-quarters of the UK public fear autonomous vehicles on UK roads, with 76pc saying lack of vehicle control is their biggest worry and 60pc afraid that self-driving vehicles could be hacked by criminals.
---