Gardaí Get New Patrol Cars For Christmas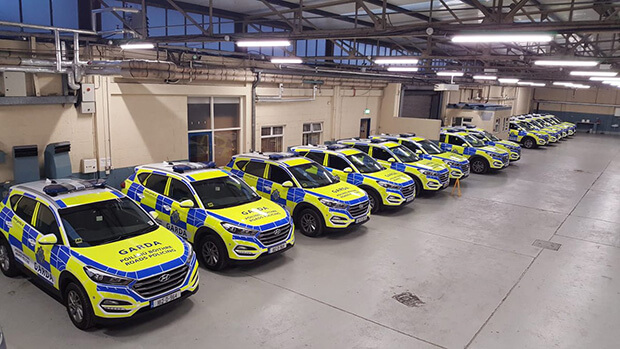 An Garda Siochána has been given a big Christmas present in the form of new traffic corp vehicles which you will see around Ireland this festive season. The vehicles have been allocated to aid in the prevention of drink-driving.
The Guards and the Road Safety Authority (RSA) have appealed for all road users to act responsibly and safely on the roads throughout the Christmas and New Year period.
Drivers are being warned of the dangers of driving the morning after drinking the night before because as their driving skills could still be very much impaired by alcohol.
Analysis by the RSA of An Garda Síochána Investigation Files for fatal collisions shows that 11% of fatal collisions in which a driver had consumed alcohol occurred between the hours of 7 am and 11 am.
Other statistics from the Guards indicate that 6% of all Driving Under the Influence (DUI) arrests this year have taken place between 7am and 11am with the highest number of DUI arrests (104) taking place on a Sunday morning.
To help counteract this, a new fleet of vehicles is being made available for those members of An Garda Síochána that work in the following areas; Terenure, Blanchardstown, Blackrock, Tullamore, Newtownmountkennedy, Mullingar, Henry Street, Midleton, Ennis, Swinford, Roscommon, Letterkenny, Sligo, and Monaghan.
The new vehicles will help in Operation Open City over the Christmas period. Assistant Commissioner David Sheahan, Garda Roads Policing Bureau, has said that:
"An Garda Síochána will be launching its six week Christmas and New Year road safety campaign beginning this weekend. This will include a focus on Mandatory Intoxicant Testing checkpoints around the country to deter people from driving under the influence of alcohol or drugs or a combination of both."
The Minister for Transport, Tourism and Sport, Shane Ross, also said that:
"The focus of our appeal this year is to warn the public about the dangers of driving the morning after consuming alcohol. We know that alcohol remains a significant contributory factor in fatal crashes and is responsible for far too many deaths and injuries on Irish roads. I appeal to all those socialising over the Christmas and New Year period to do so responsibly and never, ever, drink and drive, including the morning after."
"It's simply not worth the risk now that new penalties have been introduced which mean drivers detected with a blood alcohol concentration between 50mg and 80mg face losing their licence for three months. So if you have done the right thing the night before, don't forget to do the right thing and make alternative arrangements to travel the morning after."
As always, MyVhehicle.ie encourages every road user to be responsible out there over Christmas.
---