Man damages 27 cars because his path was blocked

Baby Buggy Road Rage
A man criminally damaged 27 cars just because his path was blocked while strolling down the path with a buggy.
In an outrageous act, Krzysztof Stefaniak went home, got drunk and returned later with a screwdriver and damaged the offending vehicles simply for the fact that his path was blocked.
The man later conveniently claimed that he had no recollection of the incident and couldn't remember anything.
As inconvenient as it is to have cars up on the footpath blocking your way, this is something that is commonly done all over Ireland and has occurred since cars first appeared on Irish roads and the Irish people accept this fact and it is common practice. Good or bad, right or wrong, it happens and we tend to deal with inconveniently parked cars without resorting to this kind of retaliatory behaviour.
Stefaniak, who resides in Macroom County Cork faced 27 separate summonses in relation to the criminal damage of the vehicles and pleaded guilty to all the charges.
The estimated cost of damage to just 11 of the 27 parked cars amounted to €10,511. Work is ongoing on the costs of the remaining 16 cars, but it could be in the region of €40,000.
A Garda on duty at the local station, Sgt Brian Harte told the court that on the morning of February 24 last he received a call regarding criminal damage to a car parked at New St.
When the guards arrived at the scene, they discovered criminal damage to 27 vehicles parked on the left-hand side of the road. The damage was described as "deep gouges or scrapes along the panels of the vehicles".
The damage was carried out overnight but unbeknownst to this individual, he was caught in the act on CCTV at 2.36am in the morning walking up the street with an implement in hand and scraping the side of the cars.
Stefaniak has seven previous convictions, including for an assault and a drink-driving offence about 10 years ago.
His solicitor gave the usual sob story that we are constantly hearing from these legal teams when someone gets caught for a criminal act. "He has no memory of doing it,...When he got absolutely drunk he did this." Judge McNulty said that what occurred was "wilful, destructive damage to motor cars...Whatever was bothering him, this was outrageous behaviour,"
He was sentenced to 10 months in prison. Stefaniak had raised €4,000 as compensation for part of the damage and the judge asked gardaí to arrange for this to be split between the 27 motorists as "token compensation" of €150 each and said by the time of any appeal Stefaniak may have raised more money in relation to the damage. €150 is nothing when your car may have been damaged to the cost of ten times that much.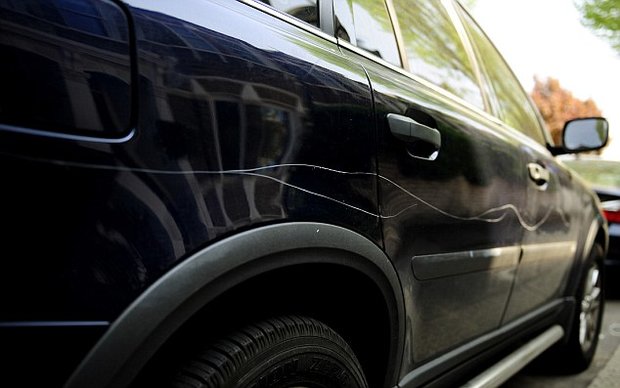 ---