Must Have Safety Features when buying a car in 2016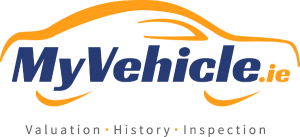 First things first! Overall Safety of the driver and passengers has to be a top priority when buying a car, new or used. Safety features ensures that the vehicle protects its passengers from the possibility of being seriously injured during a crash. It should also be noticed that vehicles are particularly more dangerous to pedestrians and other road users than they are to drivers and passengers inside it. In dire situations, human mind tends to lose its calm, hence it is necessary to have an automated backup plan that would come into action and minimize the severity of a crash.
Although, over the years, safety features installed in new cars have improved excessively. Some of these features either warn you that the collision is eminent or brakes the car automatically if it thinks you are going to crash. These technologies are now available on all manner of vehicles, ranging from executive saloons to family hatchbacks and even cheap city cars.
Based on our experience, here are recommendations for features worth considering.
Drowsiness Warning Systems
After a recent survey, Road Safety Authority (RSA) revealed that almost 1 in 10 motorists have admitted to have fallen asleep while driving. It is estimated that every year, as many as 1 in 5 driver deaths in Ireland occur due to driver being tired or exhausted. Furthermore, it was observed that due to high impact speed and lack of avoiding action, tiredness-related collisions were three times more likely to be fatal or have a serious impact.
In order to combat the sleep related crashes, vehicles are now being developed with systems that detect and show a warning whenever a driver is showing signs of tiredness. These systems detect when a driver's head position starts to change in a way that indicates tiredness. The system activates an audible or physical warning indicating the driver to be alert.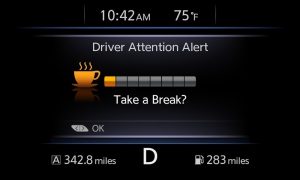 Forward Collision Prevention
Forward Collision Mitigation (FCM) or Forward Collision Warning (FCW) systems reduces the chances of being in a crash by detecting how far and fast the vehicle that is currently in front of you is moving. If it senses an impending collision, it automatically applies the brake even if you do not respond. These system uses laser, radar, sensors, or cameras to assess the surrounding. FCM systems will even alert you if there's a possibility of a crash with a pedestrian. We feel Forward Collision Warning should be made standard in every car now.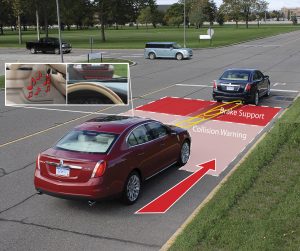 Curtain Airbags
Curtain Airbags are specifically designed to protect the head from suffering a major brain injury during a side collision. Side impact crashes account for 22% of all major accidents which resulted in a serious injury or death. In most cases, people have heard of driver airbags (which are standard in many cars), however they do not protect you during a side collision.
Curtain airbags even prevent ejection from the vehicle during a rollover.
Curtain air bags are available in a range of different cars, check whether your car is installed with curtain airbags or not.
Night Vision Displays 
Active night Vision Systems reliably detect and alert you of pedestrians, cyclists and deer otherwise not recognizable merely through headlights. It is well worth considering when you're looking to buy your next car. Human eyes are incapable of functioning optimally, during night time due to limited visibility. According to Forbes, almost half fatal accidents happen during night, even though there is noticeable far more vehicles during the day.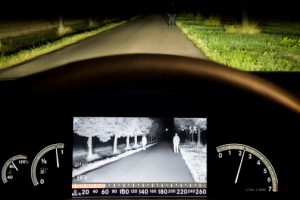 Car Manufacturers are determined to reduce the crashes caused by low visibility by introducing infrared cameras that will feed directly to a display. This is going to warn the drivers of any obstacles in the dark. In Audi, Night Vision Assist was introduced in 2010, uses a thermal imaging camera, which can 'see' 300 meters ahead.
Adaptive Headlights
Adaptive headlights are a must. They automatically adjust their angle when drivers turn corners. Normal headlights can sometime blindside the driver from any obstacle ahead, adaptive headlights help motorists notice plausibility of any obstacle, giving them that extra edge to take evasive action.
Speed Limit Assistance
According to Road Safety Mayo, "Speed is the single biggest factor contributing to road deaths in Ireland, with more than 40% fatal Collisions caused by excessive speeding". With this latest feature, the system will alert the drivers when they are travelling over the limit. It uses camera to analyse speed limit signs and then notify the driver if they are exceeding the limit.
Intelligent Speed Adaptation
This feature is the next step to Speed Limit Assistance. In this feature, the system will be pre-programmed to be aware of speed-limits on most roads. Car manufacturers are designing a system that will prevent the vehicle from exceeding a safe or legally enforced speed limit. This is especially attractive for parents who are constantly worried that their teen might be speeding.
Heads-up display
A highly recommended safety feature is Heads-up Display. This feature puts the basic navigation information on the windshield, right in front of the driver, so you never have to take your eyes off the road. Audi's Q7 has its display in full colour, which shows upcoming turns, speed limits and in turn how fast are we driving.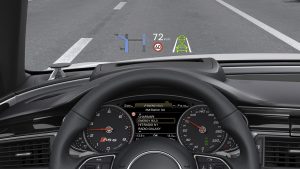 Some extra features worth Considering:
Heated seats and steering wheel



Specially in Ireland, extremely effectual during Winters. Trust us, once you have this feature in your car, you'll never be able to live without them.



Rear-view cam


This is such a simple yet imperative feature, that is noticeably seen in most modern cars, the only question is how did we ever live without it. This feature comes in handy when getting out or getting in tight spaces. Special features include audible warning ensuring you don't hit something or someone.


Passenger Knee Airbag



These are extra set of airbags placed in front, on the passenger side to cushion the knees during a crash.



Blind spot detection



This is a basic feature on side view mirror that begins to blink if there is another vehicle, cyclist or pedestrian out of your field of vision

.



USB Port


A USB port

can be used to charge a device and play music through the stereo.



Bluetooth



A Bluetooth connectivity enables you to make a call on hands free while driving. Simply pair the phone to the car. This particularly comes in handy when you are constantly on phone. Keeps both your hands on the wheel and even avoids you a hefty fine.



[maxbutton id="1"]
---