NCT is deemed an essential service during lockdown

20th of October 2020 COVID 19 Essential Services Update
The NCT service is deemed an essential service, all NCT centres are fully operational and customers should attend for their scheduled appointment as arranged.
As well as the NCT, many automotive businesses will remain operational including outlets providing for the repair and maintenance of mechanically propelled vehicles. Also any related facilities for bicycle sales including tyre sales and repairs.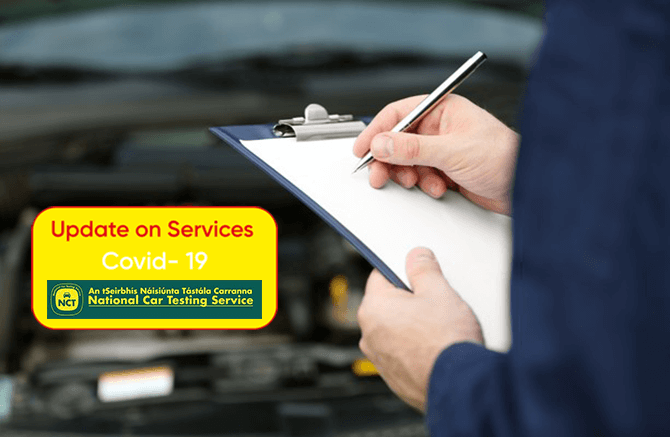 List of essential retail outlets and services includes:
Shops and supermarkets. Outlets selling food or beverages whether on a retail or wholesale basis

Outlets selling food or beverages on a takeaway basis

Markets that wholly or principally, offer food for sale

Outlets selling essential products for upkeep and functioning of places of residence and businesses

Pharmacies, chemists and outlets selling health, medical or orthopaedic goods

Fuel service stations and heating fuel providers

Outlets selling essential items for the health and welfare of animals

Laundries and dry-cleaners

Banks, post offices and credit unions

Outlets selling safety supplies (including work-wear apparel, footwear and personal protective equipment)

Hardware outlets and builders' merchants that provide hardware products necessary for home and business maintenance

Outlets for the supply of construction and development equipment

Outlets for sanitation and farm equipment, or supplies and tools for essential farming or agriculture products

Opticians and optometrist outlets on an emergency basis only

Outlets providing hearing test services or selling hearing aids

Outlets selling office products and services for businesses or for relevant people working from home, also on an emergency basis only.

Outlets providing electrical, information and communications technology and telephone sales, repair and maintenance services

Any other retail outlet that operates an online or other remote system of ordering goods for purposes of collection at the retail outlet
Those who work in essential shops or who provide essential services will be allowed to travel more than 5km.
Individuals who must travel more than 5km to go shopping will not be penalised.
---