Tips For Testing a Used Car Before Purchase in Ireland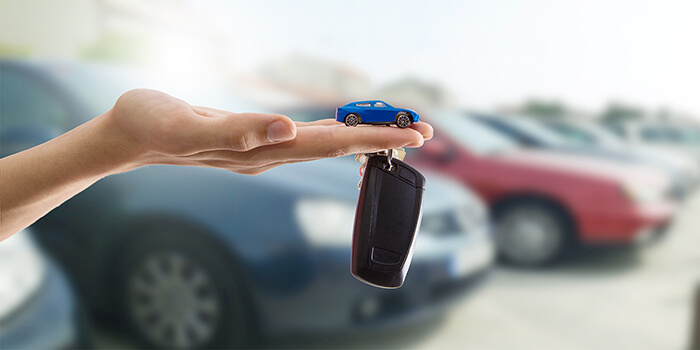 Tips For Testing a Used Car Before Purchase in Ireland
Considering buying a used car? While there are many, great quality used cars on the market, the sheer volume of cars traded in Ireland in a given year suggests there is a high risk of making a bad decision.
Use the following car-buying tips to keep that risk to a minimum.
General appearance/bodywork
A thorough visual inspection is essential when considering buying a used car. Firstly, take a few steps back and take a good look at the car's general appearance to get a feel for the overall condition. Take note of any panels or paintwork that looks dull or is a different shade from the adjacent panels. This may indicate previously repaired damage and is worth a closer look.
TOP TIP: All paintwork looks good in the rain! Always view the car in daylight, in dry weather.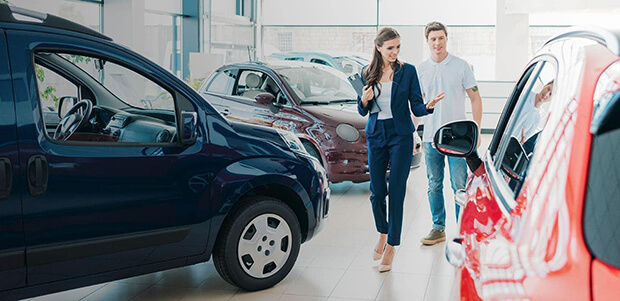 Check the mileage
Check that the mileage displayed is a reasonable average for the age of the car and is consistent with all other references to the mileage such as service history, NCT records and general condition of the car.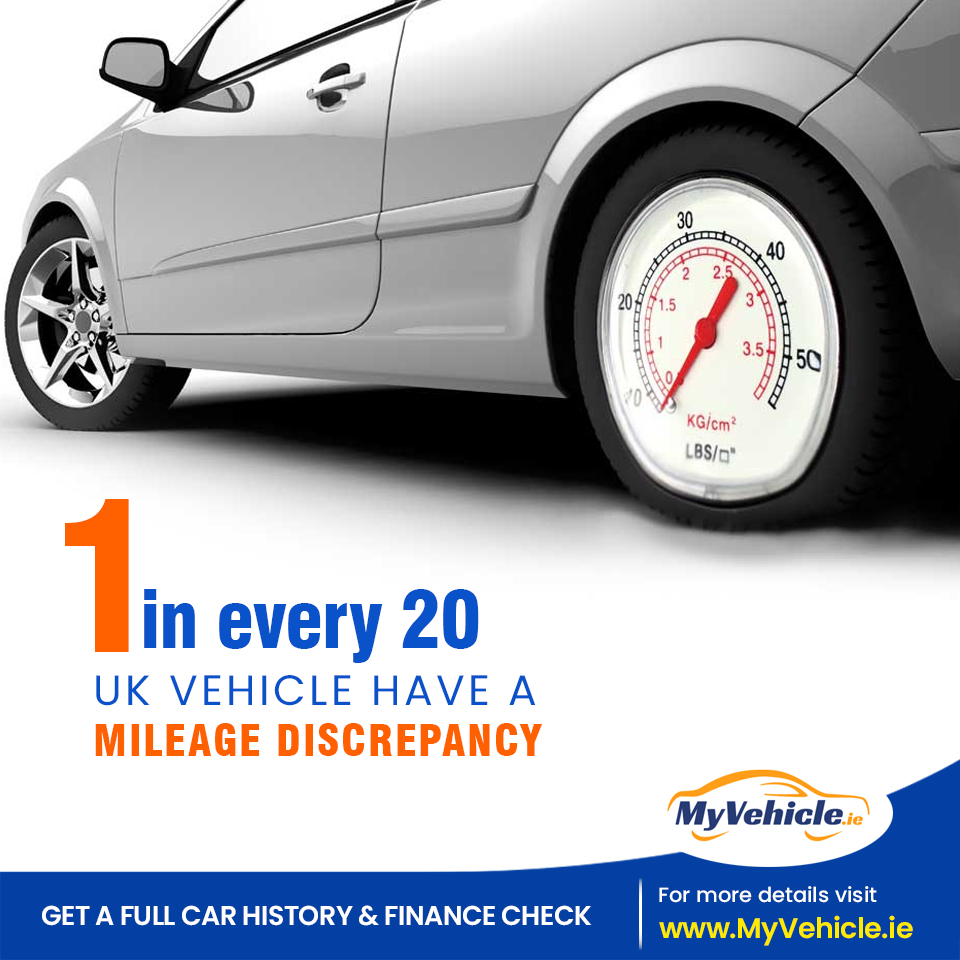 Check the tyres
Check the tyres for overall condition. Look at the tread depth and make sure it's within acceptable limits. Check for wear consistency; an unevenly worn tyre is an indication of misalignment at least, and possibly accident damage. Check the date of manufacture of the tyres by looking for the date on the sidewall. A tyre more than six years old should be replaced, regardless of wear.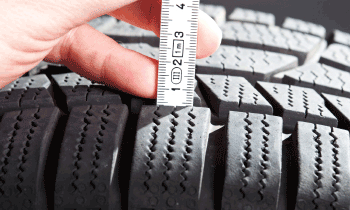 Check the documentation and service history
Check the glove box for any service history or maintenance receipts. A car with a documented history of regular maintenance and repairs is a much better investment and is worth significantly more than one without, particularly if it's a main dealer service history.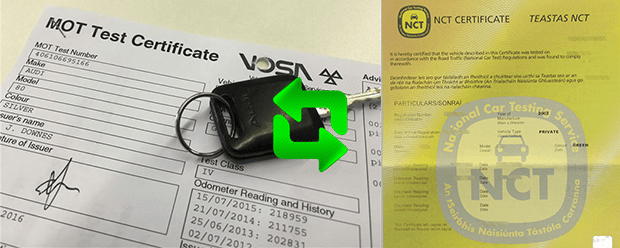 Take a test drive
Before you consider taking any car for a test drive, ensure that you are adequately insured to drive it. Once on the road, try to take more than a quick drive around the block and test drive the car in a wide range of conditions; at low speeds, in tight turns, and at higher speeds on a motorway. Note any vibration in the steering, knocks or rattles, or vibration in the steering when braking. When stopped, try out all the controls and switches to make sure everything is working as expected.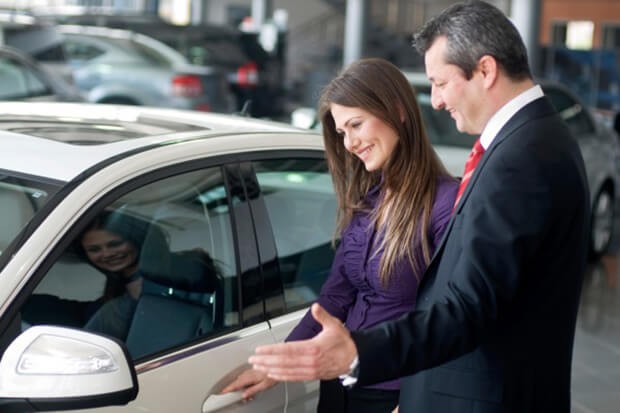 Get a car history check
If everything checks out after a visual inspection and a test drive, purchase a car history check to verify your assessment of the car and to further safeguard your investment before finally handing over your cash. A car history check will help to verify other aspects of the car's history that a visual inspection won't reveal such as outstanding finance and whether the car has ever been classified as a write-off or was a Taxi. For €19, a MyVehicle Car History check will inform you of any potential issues with the car.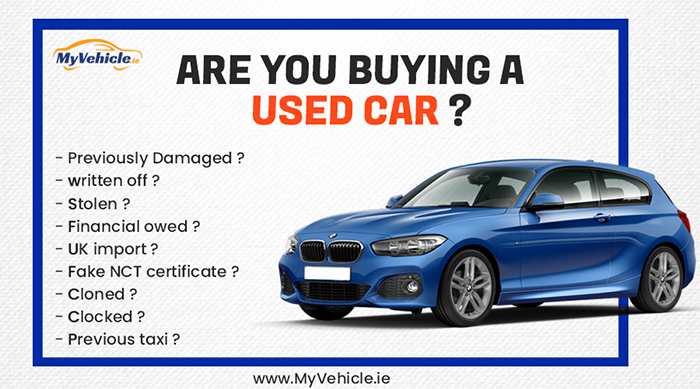 Check the number of previous owners
Check the VLC (Vehicle Licensing Certificate) for the number of previous owners and the date of the last transfer of ownership. This and a wealth of other details are recorded on the car's VLC. An excessive number of previous owners may indicate the car is problematic and has a troublesome history. Similarly, a car that has changed hands in the recent past may indicate that it's being moved on due to an underlying issue.


Check out the advertiser
If you are buying a used car from one of the many Classified Ads spaces in Ireland, it's important to be aware of the type of seller you are buying from. Your rights as a consumer are markedly different when you are buying from a private seller versus a used car dealer. Some unscrupulous dealers will try to pass off vehicles as private sales to avoid repercussions if there are any issues further down the road.
Check the website for any signs the seller has other cars advertised. When enquiring, call the seller if possible and say you are calling about the car for sale. It will become immediately obvious you are speaking to a trader if you are asked which car you are calling about.
In the case of a private sale, ask to view the car at the seller's house. Check the address registered on the VLC is the address where you are viewing the car. If this is a problem, try to establish why and proceed with caution.
Author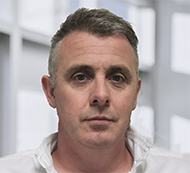 Justin Kavanagh
Justin Kavanagh is a recognised leader in automotive intelligence and vehicle data supply to the entire motor industry. He has almost 20 years experience in building systems from the ground up. As the Managing Director of Vehicle Management System, he understands the need and importance of trustworthy and reliable vehicle history and advice to both the trade and the public.
Follow me on LinkedIn
---