How to Check the Current Value Of A Car in Ireland

Car Valuation Ireland
Whether you're buying a car, selling your current car, or purchasing insurance, knowing the value of the car is vital if you want to save money. But how do you go about figuring out how much a car is worth? Sure, you can always walk into the nearest dealership and ask them for a quote, but the trouble with doing this is that sneaky sales officials may try to cheat you by either undervaluing your car (if you're trying to sell it) or overvaluing a car (if you're trying to buy one). So, now, you're likely wondering how to check the value of your car in Ireland — that's where we come in. MyVehicle.ie's iCAP tool provides you with the most accurate and trusted valuation of any personal or commercial vehicle. The tool is used by automotive professionals as well as by financial institutions across Ireland, so you can rest assured that you're getting the most precise valuation. Read on to know more.
Why Should You Check A Car's Valuation
There are three key scenarios when you may need to check a car's valuation:
1. To get a car insurance quote
When trying to request a quote from a car insurance firm, the insurer will likely ask you for the estimated value of the car. If you take a policy out for a lower value, you risk losing a lot of money when you make a claim. Conversely, if you provide too high a value, you will have to pay a high premium on your plan.
2. You want to sell your car
If you want to sell your car, whether it is to a dealership or private seller, it's important that you are aware of what the market value of your car is at present, so you are able to negotiate wisely. If you are unaware of your car's valuation, you risk letting the buyer quote an unfairly low price. Knowing your car's value will help you determine how much you can make by selling it at a fair market price.
3. You want to buy a car
Many sellers assume their car is worth a lot more than it really is — they don't account for depreciation and, as a result, quote a high price. Unless you know the true value of the car in Ireland, you won't be able to negotiate the right price and make an informed buying decision.
Factors That Affect A Car's Value
While most people know that factors like the age and mileage of a vehicle will affect its value, there are, in fact, numerous other things that influence a car's value.
- The colour of a car: Colours like white, black, and silver are most common on Irish roads, so a vehicle that is painted in one of these neutral colour choices is a safe bet. In comparison, if the car is more vibrant or is painted a colour that is "out there" and not likely to appeal to everyone, its valuation will suffer.
Appearance: The car may be in great shape, but any dents or scratches on the vehicle's body can affect its value. If you are trying to sell your vehicle, it's best you give your car a good polish to present it in good light to prospective buyers. Like the exterior, the interior of the car can also affect its value. For instance, the presence of food crumbs, worn-down upholstery, or bad odours could indicate the car has not been well maintained.

Service records: The service records of a vehicle will tell how the car has been maintained over the years. Hence, a car with up-to-date service records will fetch a higher price than one that isn't. If you're the seller, keep in mind that there's no such thing as too many documents or details.

Optional extras: Any optional extras that a car is fitted with will affect its value and how it compares to similar cars in the market. A car that's got extras, like fancy upholstery or upgraded alloys, is likely to fetch a higher value than a bare-bones car.
Importance of iCAP valuation
Now that you know how important it is to know the true value of a car in Ireland, make sure to check the car's value with MyVehicle.ie's iCAP valuation tool. All you need to do is enter the registration number of the car as well as the odometer reading (the latter is optional but recommended for a more accurate reading). Your report will include the current valuation of the car, a full vehicle identity check, the price of the vehicle if it's purchased new, and many other important details that can help you get an upper hand in any transaction!
Author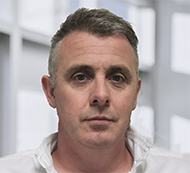 Justin Kavanagh
Justin Kavanagh is a recognised leader in automotive intelligence and vehicle data supply to the entire motor industry. He has almost 20 years experience in building systems from the ground up. As the Managing Director of Vehicle Management System, he understands the need and importance of trustworthy and reliable vehicle history and advice to both the trade and the public.
Follow me on LinkedIn
---