Can Ireland become a global hub for autonomous cars?
John Cormican, general manager of vehicle engineering at Jaguar Land Rover Ireland believes that Ireland could become a global leader in AV development, especially on the west coast.
It's been a long time since Ireland has had a car manufacturing operation since it died off with Ford in 1984. There is a history in vehicle manufacturing here in Ireland that many forget. After the United States, the first place the Ford Motor Company decided to open a plant was in Ireland a century ago.

Considering the future though, Ireland is embarking on a new and exciting frontier in autonomous vehicle (AV) development, with Jaguar Land Rover announcing earlier this year that it would establish an automotive research centre in Shannon, Co Clare, for AVs and electric vehicles (EVs).
John Cormican, who is the centre's general manager has become one of Ireland's leading figures in AV development and he was speaking recently at Inspirefest 2018. In his view, Ireland's climate makes it an ideal testing ground for autonomous vehicles as they can be tested in wind, rain and sunshine.
He is probably right as Ireland is already a high-tech hub for the world's biggest tech companies. Cormican said that Ireland's west coast is a hotbed of autonomous car activity and could one day rival Detroit in stature.
While we tend to look at what's going on in Silicon Valley and China for the latest in autonomous car development, little do people know that Ireland is quietly becoming one of Europe's biggest developmental hotbeds for the technology.
A lot of the development is originating at the recently established Jaguar Land Rover automotive research centre in Shannon, Co Clare. The centre is focusing on technology for electric vehicles, specifically the development of Level 4 autonomy.
To put this in perspective, the final stage – Level 5 – would be a vehicle that could drive completely autonomously without any human intervention.
Jaguar Land Rover is a member of the Connected and Automated Vehicles Ireland forum. This forum is a combine of various research organisations and companies with the express aim of development. Cormican has big ideas for the island when he said:
"We want to make Ireland the centre of the universe for autonomous vehicles."
The West coast of Ireland at Shannon is an ideal location from an academic point of view, as it is situated between Galway and Limerick with access to the University of Limerick, Limerick Institute of Technology, NUI Galway and Galway-Mayo Institute of Technology. All of these academic institutions are within a relatively short distance of one another which is impressive. Cormican went on to say:
"That cluster between Cork, Limerick and Galway is producing many, many thousands of graduates, and that's primarily the reason why Jaguar Land Rover moved to Shannon because we can access that talent pool, and there are some great courses there that we are hiring from,"
He added that the M18 motorway, which connects Limerick and Galway, will be the focal point for much of the autonomous vehicle development in Ireland, acting as a testbed for the systems developed at its Shannon site.
The west of Ireland could certainly prove to be an ideal proving ground for self-driving cars given that is so unlike the dry, straight roads in California and Arizona, Ireland has some of the most challenging driving conditions possible. After all the world's longest designated tourist route is The Wild Atlantic Way.
"We have grass on the road, we have sheep on the road, we have stones on the road, we have potholes and we have very interesting weather conditions,"
"If we can get this right for the west of Ireland, we can do it anywhere in the world."
Author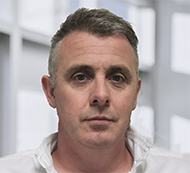 Justin Kavanagh
Justin Kavanagh is a recognised leader in automotive intelligence and vehicle data supply to the entire motor industry. He has almost 20 years experience in building systems from the ground up. As the Managing Director of Vehicle Management System, he understands the need and importance of trustworthy and reliable vehicle history and advice to both the trade and the public.
Follow me on LinkedIn
---