Irish damaged and crashed car report April 2021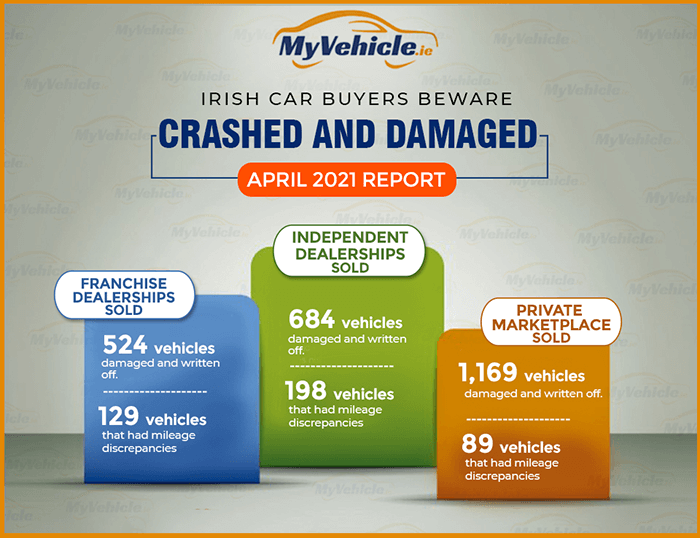 Crashed and damaged cars
The latest figures for damaged and crashed cars for April have been released and we hope that you are not one of the unfortunate motorists that has bought one of these cars.
Franchise Dealers
Buying from a main dealer, while normally a good idea, can sometimes turn out costly. Franchise dealers are certainly not immune to being caught out and sourcing a car which has been previously damaged. They may have even run a vehicle history check with a supplier who did not show any crash damaged data in an inferior report.
The latest shocking statistics below from MyVehicle.ie reveals that during the month of April, 524 were discovered to be written-off compared to 433 in March, an increase of 91 vehicles.
This means that almost 18 previously damaged cars were sold every single day at Franchise dealerships.
Discrepancies - Main Dealers
A further 129 vehicles were discovered to have a mileage discrepancy of one kind or the other in the main dealerships which was an 51.76% increase over the previous month of March which had 85 vehicles displaying mileage discrepancies.
It is always recommended to run a full background check on every car even if it comes from an authorised main dealer.
Independent Traders
Again, during April we had a big increase in damaged and crashed cars being sold compared to the previous month.
During April 684 previously damaged vehicles were sold at Independent dealerships, an increase (22.14%) from 560 cars in March.
Taking all the dealers across the independent network, this is a large percentage of damaged and crashed cars being sold.
The difference in this sector is, that many of these vehicles being sold may not have just been oversights because a trader didn't run a vehicle check, but actually that the vehicles were deliberately sourced as damaged vehicles and sold on without the buyer being fully aware.
Car buyers are constantly being told that "it just had a tip", which is code for; it was crashed before and may have been categorised but I have said enough to inform you of the condition of the vehicle.
This kind of unscrupulous trading technique is widely used and it is so important that all potential car buyers are aware of the 'tricks of the trade'.
Discrepancies - Independent Traders
Independent Traders sold 198 vehicles during the month of April that had mileage discrepancies displayed on a report.
Many of these vehicles could be shown to have been 'clocked' after investigation or at least had discrepancies on the record that could not be resolved.
Discrepancies increased over the previous month from 113 vehicles to 198 which is a massive 75.22% increase.
Private Car Sales Sector
The private car sales sector is where the majority of issues start to be revealed and it is imperative that a potential car buyer carries out all due diligence when buying a used vehicle from a private seller.
Many private sellers may never have heard of a car car history check, so they may not have run a background history on the car before they bought it and can, unknowingly sell on a previously damaged and crashed car to a buyer.
During April, 1,169 cars were sold privately that were damaged or written-off. This was a slight increase from March figures when 1,071 vehicles were shown to be damaged.
That means that every single day of April approximately 39 written off vehicles changed hands privately. If you bought a car in April, you should again ask yourself, was I one of these unsuspecting buyers that bought one of these damaged vehicles?
Discrepancies - Private Car Sales
Last month 61 vehicles sold privately had a discrepancy and the figure has increased this month by 45.9% to 89.
Many private sellers do not get a car history check before they buy and so current mileage readings are not being put on the record to determine discrepancies. Also, many owners may not even know that there has been a mileage discrepancy on the vehicle record prior to their ownership.
Are you one of these unfortunate buyers?
If you bought a car during April you should ask yourself if you have carried out your own due diligence on the previous history of the vehicle.
Remember, it's never too late to run a vehicle history check to determine any problems or issues. It is better to do it sooner or later after you have purchased a car in case you need to contact the seller for resolution.
Thousands of vehicles are exhibiting a hidden past each month, so make sure you know what you are getting into. Your pre-purchase research should be second-nature as it will prove to be extremely important. Remember...
Every vehicle has a past, check if it has a future!
Author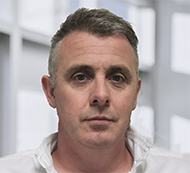 Justin Kavanagh
Justin Kavanagh is a recognised leader in automotive intelligence and vehicle data supply to the entire motor industry. He has almost 20 years experience in building systems from the ground up. As the Managing Director of Vehicle Management System, he understands the need and importance of trustworthy and reliable vehicle history and advice to both the trade and the public.
Follow me on LinkedIn
---