Fiat Chrysler to merge with Renault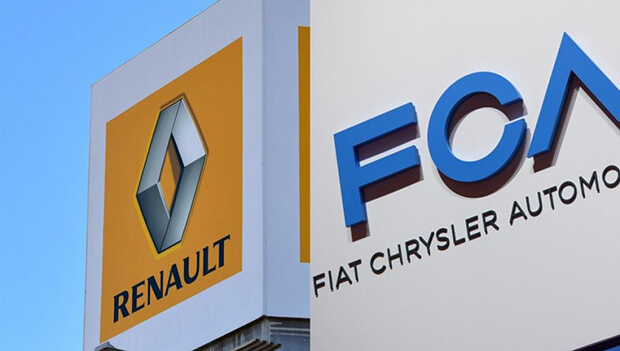 Fiat Renault Merge
Due to increasing market pressure with the advent of electric cars, Fiat Chrysler has proposed merging with Renault in a joint venture to produce EV technology.
A 50 / 50 merger between the two car giants could save these manufactures billions of euros.
The merged company would be 50% owned by Fiat Chrysler Automobiles and 50% by Renault and it the venture reflects the increasing cost pressures on manufacturers as they contend with targets set by governments on the production of electric cars, with the aim of cutting down on fuel emissions.
In a joint statement, both companies said that the merger would result in the production of 8.7m vehicles annually with a saving of €5bn (£4.4bn) each year. Much of the saving on research and development, purchasing and other activities.
Renault is already allied with Nissan and Mitsubishi in Japan but with the arrest of Carlos Ghosn, head of Nissan, on suspicion of financial misconduct has thrown doubt on that particular alliance.
The French government have shown concern over the potential merger as they have a 15% stake in Renault. A French official said the state would only agree to the merger if it would be beneficial for jobs and French national interests.
The Japanese authorities have also been informed of the merger between the French and Japanese companies. The chief executive of Nissan, Hiroto Saikawa did not comment on the merger but said he was open to discussion on "strengthening" the current alliance.
A strategic partnership between the two car giants could bring significant opportunities over the next few years as car manufacturers seek more opportunities to develop EV, connectivity and artificial intelligence technologies.
Government regulators around the world are putting pressure on car manufacturers to produce electric vehicles in a crackdown on pollution.
---