GB sticker must be displayed on all cars post-Brexit requirement

Great Britain car stickers may be needed on UK cars in Ireland after Brexit
UK Motorists are being told that they need to display a GB sticker when they drive in the Republic of Ireland if Brexit occurs at the end of October.
New UK government advice said the sticker must be displayed in all EU countries by British drivers. Ireland would be no exception to this as we are still a part of the EU if this was to be enforced?
The RAC in the UK is currently advising all to display the sticker, even though the rule is not widely enforced.
The advice applies to all cars registered in the UK, including Northern Ireland. Many of us are familiar with the sticker already, which is a white oval containing the letters GB (Great Britain) in black. The sticker must be displayed at the rear of the vehicle when entering the country.
It has been explained also that not displaying the GB sticker on the back of your car will not invalidate your motor insurance but motorists are urged to comply with relevant requirements, the Association of British Insurers said.
The requirement that all UK motorists driving in the Republic of Ireland should display a GB sticker goes back to the 1949 Geneva Convention on Road Traffic and therefore, "It is not an EU requirement and is not affected by Brexit,"
A Sinn Féin MP for West Belfast, Paul Maskey, said he would not be displaying one of the stickers on his car.
"We are not aware of any occasion when this has been enforced by the Irish government."
Many nationalists in Northern Ireland, who identify as Irish rather than British, raised objections on social media to being required to have a GB sticker.
There are approximately 1.19 million vehicles registered in Northern Ireland currently of which, 144,248 of these are Goods Vehicles and 21,000 are HGV Trailers.
The MP feels like many others that adhering to this frivolous red tape is "utter nonsense"
The AA said that drivers from the Republic of Ireland are currently required to display Irish identification on their vehicles when travelling to all parts of the UK, including Northern Ireland. Irish registration plates incorporating the IRL/EU symbol is perfectly acceptable, instead of a sticker.
In other good news, owners of Irish-registered vehicles will not need to have a motor insurance green card to drive in the UK in the event of a no-deal Brexit. Insurance Green cards serve as proof of insurance when travelling in a foreign jurisdiction.
The Motor Insurers' Bureau of Ireland said valid Irish insurance discs would be accepted as proof of insurance for Irish vehicles.
Author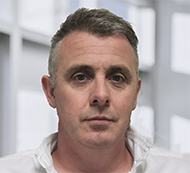 Justin Kavanagh
Justin Kavanagh is a recognised leader in automotive intelligence and vehicle data supply to the entire motor industry. He has almost 20 years experience in building systems from the ground up. As the Managing Director of Vehicle Management System, he understands the need and importance of trustworthy and reliable vehicle history and advice to both the trade and the public.
Follow me on LinkedIn
---