How To Know if an NCT Certificate is Fake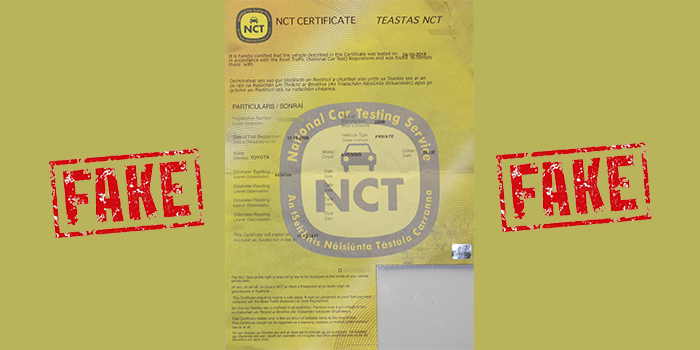 The National Car Test (NCT) is a mandatory annual test for all cars in Ireland. It is a legal requirement for all cars over four years old to display a valid NCT certificate. The test is conducted under the Road Safety Authority (RSA) and is designed to ensure that vehicles are safe and roadworthy for use on public roads.
Although it is uncommon, there have been instances of forged NCT certificates, which puts you and other road users at risk through driving a potentially unsafe vehicle. Here are some useful tips on how to check if an NCT certificate is genuine or forged, and how to verify the validity of an NCT using a car history check.
Legal Requirement for Displaying a Valid NCT
As mentioned earlier, it is a legal requirement for all cars over four years old to have a valid NCT certificate. The purpose of the NCT is to ensure that all cars on the road are safe and roadworthy and do not pose a risk to you or other road users. The test covers a range of safety checks, including brakes, suspension, lights, emissions and other areas of road safety compliance.
If a car is found to be un-roadworthy during the NCT, it will fail the test and the owner will be required to make the necessary repairs before the car can be re-tested and certified as roadworthy. Failure to have a valid NCT certificate can result in a fine, penalty points on your driving license, and even the seizure of your vehicle. Furthermore, driving a vehicle, albeit unknowingly, with a fake NCT certificate is likely to land you in serious legal trouble if you are stopped at a checkpoint.
How to Check if an NCT Certificate is Forged
The first, and easiest step in checking if an NCT certificate is genuine is to look for the hologram on the certificate itself. The hologram is a security feature that is very difficult to replicate and is an indication that the certificate is genuine. The hologram will be visible on the portion of the certificate, which is normally displayed on the vehicle windscreen. Also, check for obvious mistakes such as spellings, font size, the colour of the print and the spacing of the letters and digits.
A good way to do this is by compering the certificate side by side with one that is known to be genuine.
You should also check the certificate number against the RSA's NCT database to verify that the certificate is valid and has been issued by an authorised test centre.
How to Verify the Validity of an NCT Certificate
An important point to remember is that some fake NCT certs are printed using genuine, blank original certificates stolen from authorised test centres. These blank certificates are overprinted with the details of a car, which has not been inspected and will appear genuine at first glance. For this reason, it's important to verify the test credentials even when the NCT certificate appears genuine.
MyVehicle.ie provides a comprehensive car history check, which includes an NCT validity check. This NCT check will provide you with information about the car's NCT history, including the date of the last NCT, the expiry date of the current certificate, and any failed tests. This information can be used to verify the validity of the NCT certificate.
The Importance of a Valid NCT Test
Apart from being a legal requirement, it is important to ensure that your car, or any car you are thinking of buying, has a valid NCT certificate to ensure that it is roadworthy and safe to drive. If you suspect there is any risk that an NCT certificate is forged, double check the details, look for the hologram and verify the certificate number using a car history check from myvehicle.ie
For further confirmation of the validity of an NCT certificate, take the car to a reputable mechanic or garage. There, they will conduct a full inspection of the vehicle and confirm whether or not the car is likely to have passed a test and if there is a risk the certificate is not genuine.
Author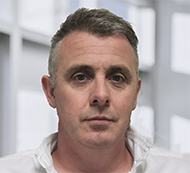 Justin Kavanagh
Justin Kavanagh is a recognised leader in automotive intelligence and vehicle data supply to the entire motor industry. He has almost 20 years experience in building systems from the ground up. As the Managing Director of Vehicle Management System, he understands the need and importance of trustworthy and reliable vehicle history and advice to both the trade and the public.
Follow me on LinkedIn
---