Ireland's longest bridge opens across the river Barrow in Wexford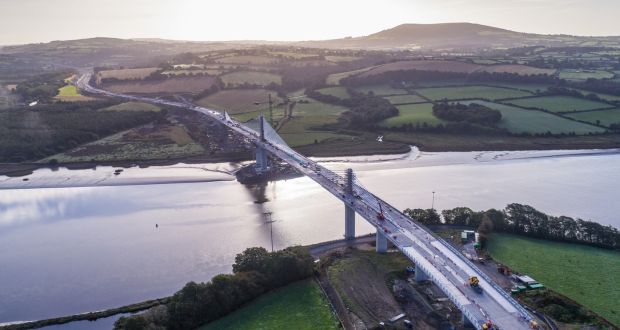 The longest road bridge in Ireland has opened up over the river Barrow in Wexford as part of the N25 New Ross bypass.
The Rose Fitzgerald Kennedy Bridge was opened in a ceremony by Leo Varadkar and Rose Katherine Kennedy Townsend.
The bypass took 2.5 million hours of work and more than 70,000 tonnes of concrete and part of the stretch is Ireland's longest bridge spanning 887 metres across the Barrow between Wexford and Kilkenny at a height of 36 metres.
The Rose Fitzgerald Kennedy Bridge bridge is named in honour of the mother of the late John F Kennedy.
The great-grand daughter and namesake, Rose Katherine Kennedy Townsend was guest of honour at the official opening of the bridge and she said that it was a fitting tribute to her family.
"This bridge is a wonderful tribute to my great grandmother, and a symbol of her enduring love and lesson that it doesn't matter who you are, where you come from, we are all God's children,"
The bridge was seemingly built with the same amount of reinforced steel that makes up the Eiffel Tower. It also has 500km of cable wire with the bridge's two main spans being the longest post-tensioned concrete spans of their kind in the entire world. Leo Varadkar added:
"By reducing congestion and travel-times, improving road safety, and opening up economic opportunities, this will make a huge difference for commuters, for families, for businesses and for tourists,"
The 35th president of the United States, John F Kennedy's ancestors hail from Dunganstown, Wexford. The Kennedy homestead is less than one mile from the new bridge.
President Kennedy visited his family town of New Ross in the summer of 1963.
The late president's sister, former US ambassador Jean Kennedy Smith suggested the bridge be named after their mother, in memory of the entire extended family.
N25 New Ross Bypass and Bridge stats
N25 New Ross Bypass is the culmination of more than 20 years work

€230 million – total cost

887m long - Ireland's longest bridge

230m central spans -longest post-tensioned concrete deck spans in the world

70,000 tonnes of concrete – 3,500 lorry loads

7,000 tonnes of reinforcing steel – similar to the weight of Eiffel Tower

500km of cabling wire – for deck stay cables, the length of Ireland

16 farm underpasses – to accommodate the passage of livestock and machinery

20 wildlife underpasses – under the road to connect foraging routes

1,000 people – people worked on-site

14 nationalities – contributed to the work on site

2.5 million hours – work on site

---