MyVehicle Car Market Overview for August 2016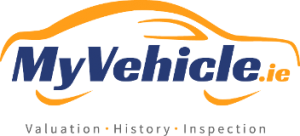 MARKET OVERVIEW FOR AUGUST 2016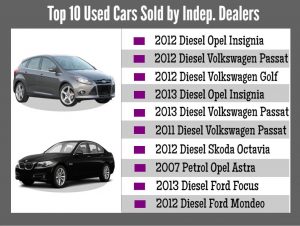 Research conducted by MyVehicle.ie revealed the top 10 most popular used cars sold by independent and franchise dealers across Ireland for August 2016 as well as the vehicles that are shifting the quickest.

MyVehicle.ie data shows what was in demand in the month of August that is being sold by independent and franchise dealers. This is a good indicator of what Irish people are looking for in terms of second-hand cars and what exactly they are buying. This data may be useful for potential vehicle buyers, giving them an insight into what the most popular cars are.

2012 cars are the most sold used vehicles by independent dealers in August. This may suggest that more and more people across the country are trading up their car after a 4-year period which may not have been the case a couple of years ago, opting for a trade-in after a longer period of time.

The Volkswagen name is dominating the independent table with 3 Volkswagen Passat in the top 10 and 1 Volkswagen Golf, coming in second, third, fifth and sixth on the list. People are sticking to the Volkswagen vehicles as they feel it will do a good job for years to come. Makes that also make the list include, Opel, Ford and Skoda. The quickest top 10 sellers are not the most popular cars sold in Ireland. None of the quickest sellers makes it to the top seller's list.

In the franchise, dealers top 10 lists we see a similar picture with the most popular vehicle being a 2014 Diesel Volkswagen Golf and a 2013 Diesel Volkswagen Golf. The next most popular being the 2013 & 2014 Diesel Nissan Qashqai, respectively. The diesel Volkswagen Passat comes in a total of 3 times on the list.

None of the best selling vehicles for franchise dealers materializes on the top 10 quickest sellers with the 2012 Petrol Toyota Aygo, the 2010 Petrol Skoda Fabia & 2011 Jaguar XF Series taking the first three spots.
MyVehicle provides the general public with more information than any other company can at a more cost-effective price. To get a MyVehicle report simply visit our website at www.myvehicle.ie!
Author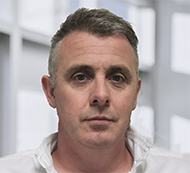 Justin Kavanagh
Justin Kavanagh is a recognised leader in automotive intelligence and vehicle data supply to the entire motor industry. He has almost 20 years experience in building systems from the ground up. As the Managing Director of Vehicle Management System, he understands the need and importance of trustworthy and reliable vehicle history and advice to both the trade and the public.
Follow me on LinkedIn
---