New Galway M17/M18 motorway to open today ahead of schedule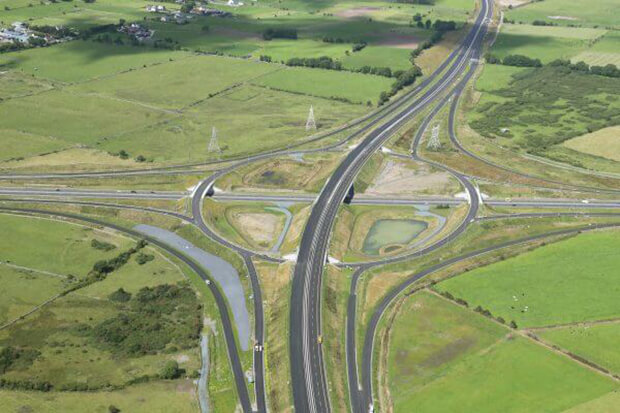 The long-awaited Gort to Tuam M17/M18 motorway will officially opened this afternoon by the Transport Minister Shane Ross.
The new motorway to the public will open between 3pm and 4pm, although it may take slightly longer if heavy rain persists, as is forecast.
At first it is planned to have a 'rolling' opening to the public which will involve Galway County Council, Transport Infrastructure Ireland, the Gardaí and the contractors.
Traffic is going to be slowed down existing roads with cones at which time the barriers will be removed to allow traffic through. Barriers on the interchange and the exits will be opened at the same time.
The new motorway will be 53km long and motorists in the west will be happy to hear there will be no tolls on this stretch of motorway.
This new motorway will intersect with the existing M6 motorway at Rathmorrissey, linking Tuam and Gort.
The road starts at the northern end of the N18 Crusheen to Gort scheme which opened to traffic in November 2010, the route taking it from Gort to the junction at Kilmore, just south of Tuam (at the 'West Wing'), a distance of 53.2km.
After this, it will continue as a dual carriageway, following a route to the west of Tuam town centre, to its end point on the N17 north of Tuam at Mountpotter, a distance of 4.2km.
The motorway has taken three years to construct by the Direct Route Consortium but has been more than ten years in the of planning.
As many motorists all to well know, there are notorious bottlenecks at Claregalway and Clarinbridge on the old N17/N18 route between Sligo and Limerick and many will be familiar and recognise their names too, since they so often feature in our traffic reports.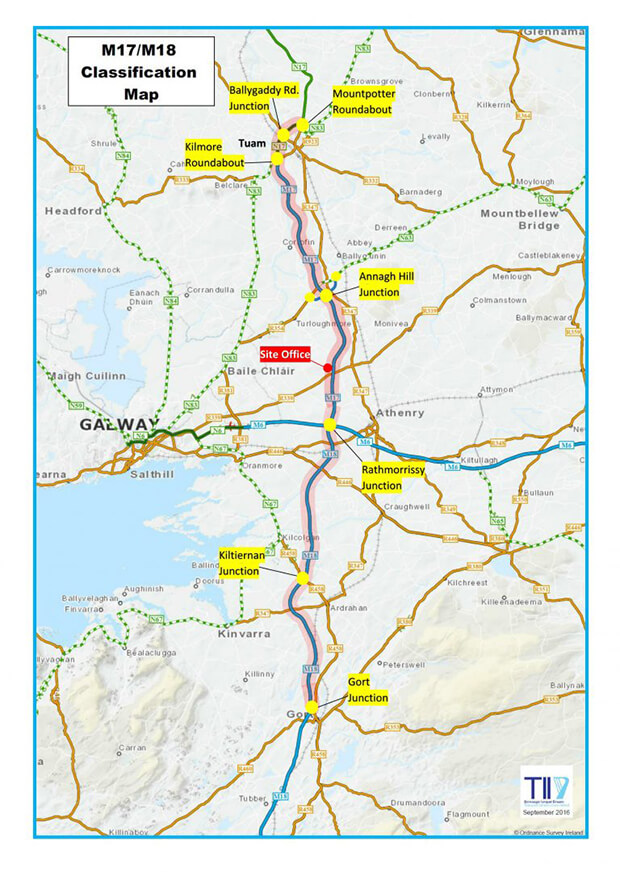 All going to plan, the motorway will open at 4 pm today, Wednesday 27
th
September, ahead of schedule cutting at least 20 minutes from journey times from one end to another and allowing  traffic to bypass Tuam, Claregalway, Clarinbridge, Kilcolgan, Ardrahan and Gort. 
A spokesman for Transport Infrastructure Ireland said:
"The new road will significantly improve safety and reduce journey times for traffic travelling north-south along the West of Ireland. It will also improve connectivity between the Western Region and Dublin and will significantly assist in the economic development of the BMW (Borders, Midlands and Western) regions."
Here are the junctions, from north to south:



Mountpotter R/A on the existing N17 and N83




Ballygaddy Rd Jct at Tuam




Kilmore R/A – connecting to the N17 south of Tuam




Annagh Hill Jct – connecting to the N63 Galway/Roscommon Rd




Rathmorrissy Jct – connecting to the M6 Galway/Dublin Rd west of Athenry (pictured above)




Kiltiernan Jct – connecting to the existing N18




Gort Jct on the existing M18



(As always, if you or a family member are considering buying a used car, don't buy until you run a
car check report
with
MyVehicle.ie
where you will find out the true history of the vehicle.)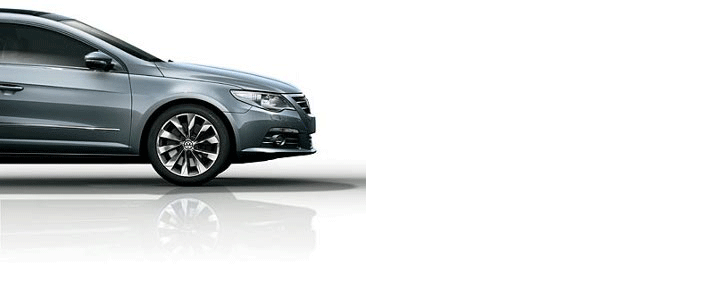 ---
---