Tesco Ireland may join the UK in expanding its e-car charging network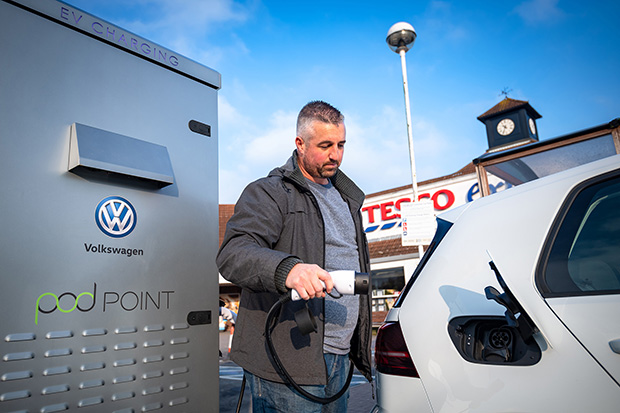 Tesco may extend their Irish e-car charging points network after UK move.
Tesco and Volkswagen have teamed up to develop free charging points for electric cars across 600 of its stores in the UK over the next three years and they are set to roll out an e-car charging network here in Ireland also.
The Retail Electric Vehicle (EV) charging network, powered by Pod Point, will allow customers to charge their electric cars using a normal 7kW charger for free or a 'rapid' 50 kW charger for a small cost while shopping.
They plan to have over 2,400 EV charging bays across their entire Tesco Extra and Superstore car parks. Jason Tarry, Tesco CEO UK & ROI had this to say:
"This is part of our wider commitment to addressing the environmental challenges that matter most to our customers, colleagues, and communities,"
"We want to be the leading Electric Vehicle energy provider and to support our customers with more sustainable solutions. Our EV network provides a sustainable choice for our customers and charging while they shop is another little help to make their lives easier."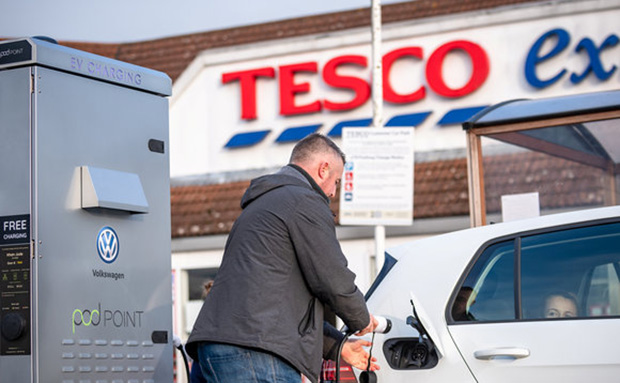 The CEO of Pod Point, Erik Fairbairn added that the agreement represents a 14% increase in the number of public charge bays in the UK saying that the establishment of the e-car charging network will be, "a monumental day for electric vehicle drivers".
"It is a massive leap forward for the UK and a significant step in our mission to put a Pod Point everywhere you park,"
Tesco Ireland is in the process of reviewing its own in-store electric vehicle charging network. The UK multiple already has a small number of electric vehicle charge points here in Ireland in partnership with the ESB at Tesco stores in Naas, Bray, Wicklow town, Maynooth, Swords and Swinford.
A spokesperson said Tesco Ireland will be keeping the UK rollout "under review" before deciding to expand its Irish network.
Pod Point is a London-based company specialising in charge-point infrastructure for electric vehicles, and according to their reckoning, the Tesco/Volkswagen deal would increase the number of electric vehicle charging points available to the public in the UK by 14%.
Tesco said the programme is part of its commitment to using 100% renewable energy by 2030.
Alternative fuels - for use in electric cars and other vehicles - accounts for 6% of fuel sales in the UK and is the fastest growing area of the fuel market. Sales have risen by 22% to date this year.
Jesse Norman, the UK Minister for EVs at the Department for Transport, welcomed Tesco's pledge to roll out the charge bays.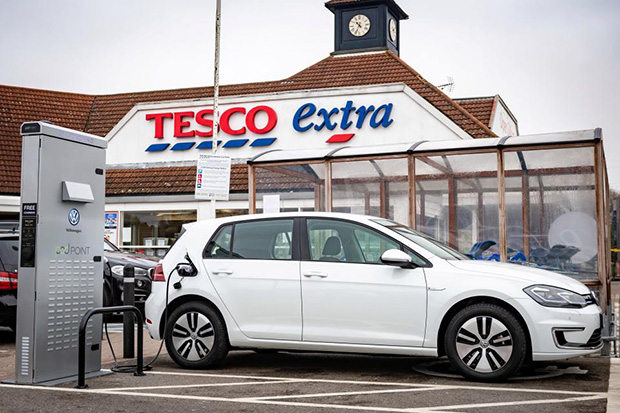 Author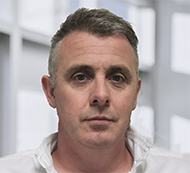 Justin Kavanagh
Justin Kavanagh is a recognised leader in automotive intelligence and vehicle data supply to the entire motor industry. He has almost 20 years experience in building systems from the ground up. As the Managing Director of Vehicle Management System, he understands the need and importance of trustworthy and reliable vehicle history and advice to both the trade and the public.
Follow me on LinkedIn
---