The MyVehicle Nationwide Market Overview report for December 2020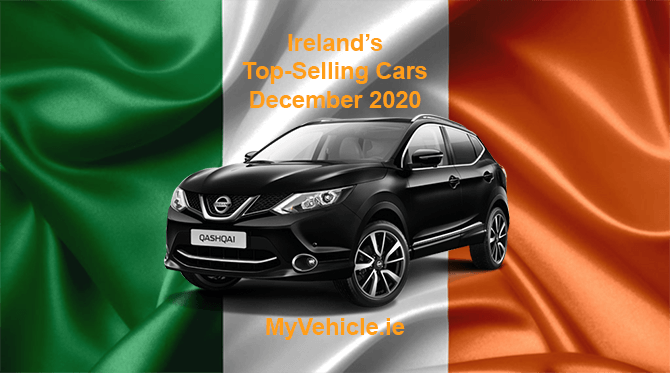 The Nissan Qashqai has reached the top spot as the best selling car sold by Independent dealers in Ireland in December 2020 with the Ford Focus coming in second place and the Hyundai Tucson dropping back to third from first place last month.
The diesel Hyundai Tucson is without a doubt the most popular car in Ireland and once again it is the number one selling car by Franchise dealers for the month of December.
All cars sold by Independent dealers in December were diesels but a slight change in the top ten Franchise sales saw the introduction of petrol Nissan Micra and Petrol Renault Clio. Diesels continue to dominate in the Irish car market.
Diesel's were heavily pushed by the Government in the past ten years or so and now they have reversed this recommendation in line with the global trend away from diesel fuel but all indicators point to diesel still being the most popular choice for consumers.
The number one quickest selling car from Independent dealers in December was 2003 Petrol Mazda 2 and the quickest selling vehicle during November from franchise dealers was the 2014 Diesel SEAT Leon.
The November report reveals that of the top ten cars sold privately, the top three went to the Petrol Ford Focus, the Diesel BMW 5 Series and Petrol BMW 3 Series. BMW is always popular in this private category with four cars in the top ten.
Of the top-ten cars valued during the month, the diesel Skoda Superb came out on top with the diesel Hyundai Tucson taking the second place position and again the diesel KIA Sportage coming in 3rd place.
Top 10 Used Cars Sold by Independent Dealers
2017 Diesel Nissan Qashqai

2017 Diesel Ford Focus

2017 Diesel Hyundai Tucson

2016 Diesel Audi A4

2017 Diesel Volkswagen Passat

2017 Diesel BMW 5 Series

2017 Diesel Audi A6

2019 Diesel Nissan Qashqai

2016 Diesel Hyundai Tucson

2016 Diesel Volkswagen Passat
Top 10 Used Cars Sold by Franchise Dealers
2017 Diesel Hyundai Tucson

2020 Diesel Volkswagen Tiguan

2017 Diesel Ford Focus

2019 Petrol Nissan Micra

2019 Petrol Renault Clio

2017 Diesel BMW 5 Series

2016 Diesel Ford Focus

2017 Diesel KIA Sportage

2019 Diesel Renault Kadjar

2019 Diesel Volkswagen Tiguan



Top 10 Quickest Sellers Independent Dealers
2003 Petrol Mazda 2

2008 Petrol Mercedes-Benz B-Class

2011 Diesel Skoda Superb

2018 Petrol SEAT Leon

2011 Diesel Volkswagen Passat CC

2014 Diesel Volkswagen Polo

2008 Petrol Mercedes-Benz E-Class

2013 Diesel Land Rover Range Rover Evoque

2012 Diesel Volkswagen Scirocco

2008 Petrol Ford Fiesta
Top 10 Quickest Sellers Franchise dealers
2014 Diesel SEAT Leon

2012 Diesel Hyundai i30

2011 Diesel Ford Focus

2010 Petrol Toyota Yaris

2013 Diesel Volkswagen Passat CC

2013 Diesel Ford C-Max

2013 Diesel Ford Mondeo

2015 Petrol Mercedes-Benz CLA-Class

2016 Diesel Volvo S60

2013 Petrol Skoda Fabia



Top 10 Used Cars Sold Privately
2006 Petrol Ford Focus

2011 Diesel BMW 5 Series

2007 Petrol BMW 3 Series

2007 Petrol Ford Focus

2014 Diesel BMW 5 Series

2008 Petrol Opel Astra

2006 Petrol Volkswagen Golf

2008 Petrol Ford Focus

2008 Petrol Volkswagen Golf

2012 Diesel BMW 5 Series
Top 10 Overall Cars Valued
2018 Diesel Skoda Superb

2017 Diesel Hyundai Tucson

2017 Diesel KIA Sportage

2017 Diesel Volkswagen Passat

2017 Diesel Nissan Qashqai

2015 Diesel Volkswagen Golf

2016 Hybrid Toyota Auris

2017 Diesel Ford Focus

2019 Petrol Peugeot 2008

2016 Diesel Volkswagen Passat
---