Toyota Land Cruiser reaches incredible speed of 370km/h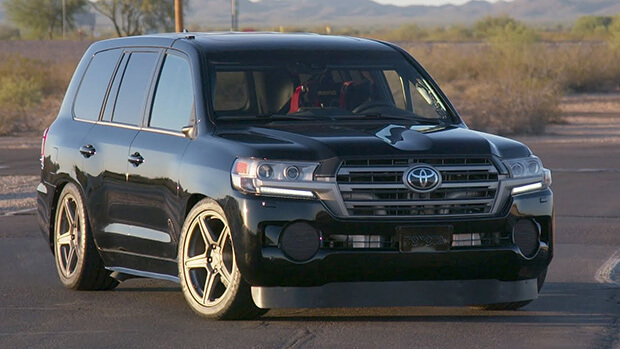 A 2,000 bhp Toyota Land Cruiser can reach the incredible speed of over 370km/h (230mph).

Former NASCAR race car driver Carl Edwards hit the jaw-dropping speed on the Mojave runway.

When one considers that a €2 million Bugatti Chiron supercar has just 1,500 hp you can begin to see how powerful the 2,000 hp SUV is.

An SUV that can outrun the best that Lamborghini, Ferrari and Bugatti has to offer is no mean feat. Say hello to the Toyota Land Speed Cruiser.

Unlike the other supercars, the Land Speed Cruiser was created, as a one-off, for the SEMA accessories and modified car show in Las Vegas.

It uses the same 5.7 litre, V8 petrol engine as found in the road-standard US version of the Land Cruiser VX but obviously, Toyota has tinkered with it a bit.

For the petrol heads amongst us, the Super SUV sports a pair of monstrous 55psi Garrett turbochargers housed in a jutting grille that distends the front end of the car.

Power rises from the standard rating of 381 bhp to 2,000 bhp, the same power of a Chiron and a BMW M550i combined.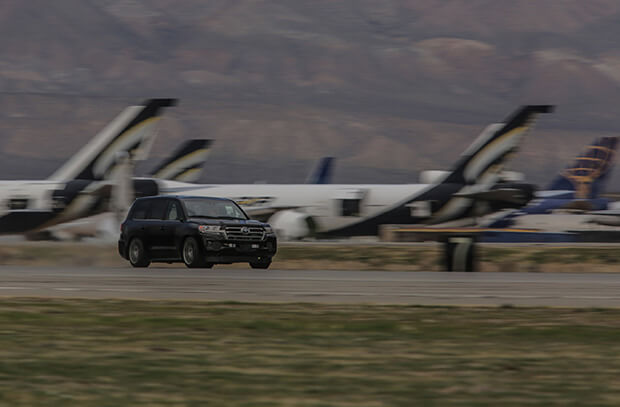 Toyota marketing manager,
Steve Appelbaum
said:
"At Toyota, we like to say, 'Let's go places', and the Land Speed Cruiser goes places faster than any SUV before it. This was an aspirational goal that inspired us all,"
Toyota Motorsports Centre (MTC) made many modifications to the SUV, including beefed-up pistons and con-rods, a custom intake manifold, the transmission and gearbox from a racing car and suspension that's 15mm narrower so that ultra-wide
Michelin
Pilot Super Sport tyres could be fitted.
MTC manager
Chuck Wade
said,
"The world's fastest SUV record was at 340km/h. That's extremely fast. Toyota thought, 'Why don't we make a really, ultra-powerful Land Cruiser, and let's just see how fast we can make it can go,'"
Championship road racer and test driver
Craig Stanton
played a key role in fine-tuning the Land Speed Cruiser's setup at Toyota's
Arizona
proving ground.
"I wanted the Land Speed Cruiser to provide the confidence you need, as a driver, to keep pushing even when the world around you becomes a high-speed blur," he said. "We made some setup adjustments, and it not only accelerates and shifts more smoothly, but it also has enhanced stability."
The retired Toyota NASCAR driver

Carl Edwards

was also brought in on the project at the Mojave Air and spaceport in

California

.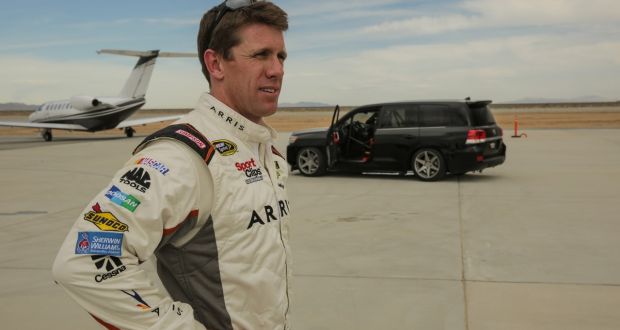 Recently retired Toyota NASCAR driver Carl Edwards was brought in to take the wheel of the world's fastest SUV.

The Space Port is one of the very few places in the US where supersonic flight is allowed with a 2½-mile paved runway perfectly suited to the Land Speed Cruiser's mission.

Prior to Edwards's run, Stanton warmed up the SUV, moving it along at a hefty 319km/h then 340km/h until he started running out of track to slow down the SUV.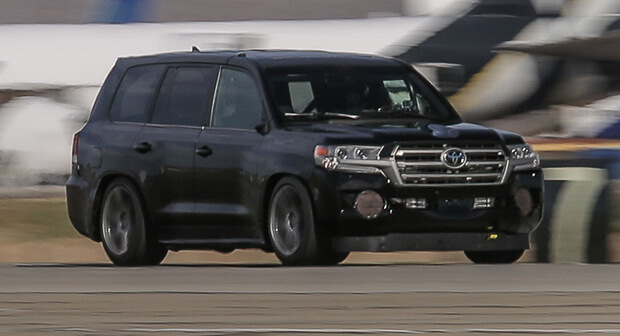 On the next run, Edwards took the wheel, hitting the pedal to the metal drove the Land Speed Cruiser to its jaw-dropping 370km/h top speed.
"At 360km/h, the thing was wandering a little bit. All I could think was that Craig said, 'No matter what, just keep your foot in it,' and we got 370km/h," Edwards recounted from behind a huge grin after setting the record.





"It's safe to say that this is the fastest SUV on the planet."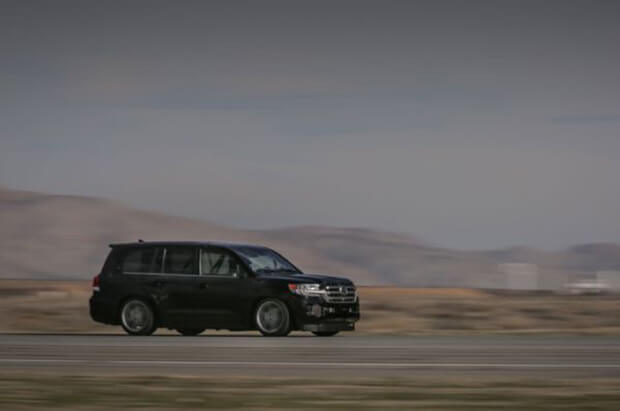 It's not yet a world-record holder as the SUV hasn't yet been given certification from Guinness World Records.
It's probably just as well, as even the long Mojave runway wasn't long enough for the Land Speed Cruiser to truly stretch its legs. At 370km/h, the world's fastest SUV still had more to give.
It's just a shame you can't actually buy one; yet . . .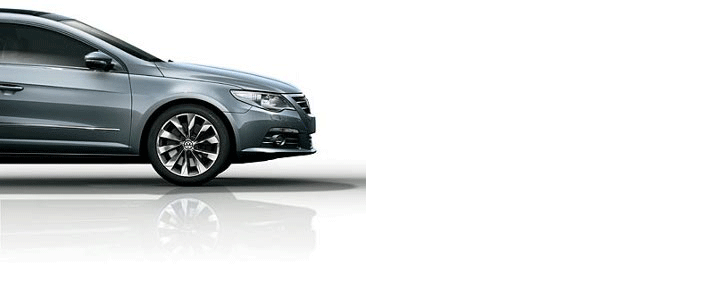 Author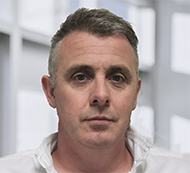 Justin Kavanagh
Justin Kavanagh is a recognised leader in automotive intelligence and vehicle data supply to the entire motor industry. He has almost 20 years experience in building systems from the ground up. As the Managing Director of Vehicle Management System, he understands the need and importance of trustworthy and reliable vehicle history and advice to both the trade and the public.
Follow me on LinkedIn
---