Toyota recalls 3.4 million vehicles for dangerously defective airbags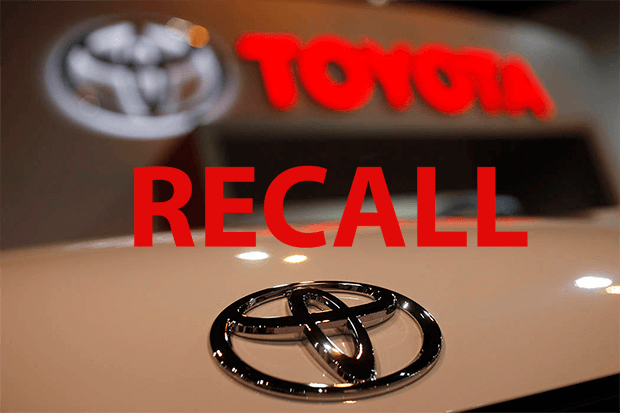 Toyota has been forced to recall 3.4 million vehicles worldwide.
The massive recall is due to a dangerous defect that could affect the airbags which might not inflate in a crash. This recall concerns the possibility of the airbags not deploying in a crash.
These airbags are controlled by specific airbag control computers made by the ZF-TRW company which may become vulnerable to electrical interference causing the airbags not to inflate when they are most needed in the event of a crash.
It is possible that this problem could affect as many as 12.3 million vehicles in the United States alone. It is believed that eight people have been killed due to airbags failing to deploy. Toyota said in a statement that a computer which controls the airbags may not have adequate protection against electrical noise that could happen when the car crashes.
This potential fault could result in incomplete opening of airbags or failure to open at all. The fault could also potentially affect devices that are used to prepare the seat belts for a collision which is equally lethal.
In most cases, Toyota dealers will install a noise filter between the airbag and the onboard computer and wiring harness. In some instances, though, the car dealers involved in the recall will inspect the the computer first to see if it needs one of these noise filters.
The Toyota US recall covers:
2011-2019 Corollas
2011 to 2013 Matrix
2012 to 2018 Avalon
2013 to 2018 Avalon Hybrid
The US National Highway Traffic Safety Administration began investigating problems with ZF-TRW air bag computers back in March of 201but the recall was expanded in April of last year to 12.3 million vehicles made by Toyota, Honda, Kia, Hyundai, Mitsubishi and Fiat Chrysler from the 2010 through 2019 model years.
This recall has also affected Honda, Kia, Hyundai, Mitsubishi and Fiat Chrysler from 2010 to 2019. Until now, it is reported that this fault may have been responsible for one death in a Hyundai Kia and three deaths in Fiat Chrysler.
---