Write-off Categories in the UK Explained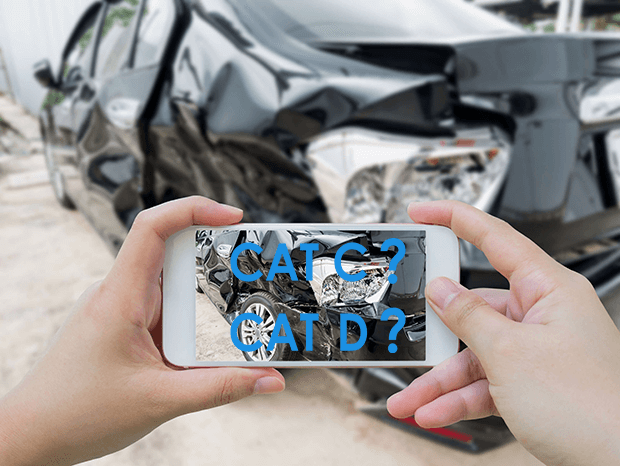 UK Write-off Categories
When any vehicle is involved in an accident or has been damaged and reported to an insurer, the accident report which the insurance company undertakes through inspection by a vehicle assessor will determine what category the vehicle is placed in.
The categories are based on the damage and the financial outlay that would be required to repair the car. In other words, if the car, motorcycle or van is so damaged that the repairs would be more than the total cost of the car, then it would be declared a total insurance loss.
The Association of British Insurers (ABI)
In the UK, the ABI coordinates the code of categorisation which came into effect on 1st October 2017 replacing previous four main salvage categories A, B, C and D with:
A: Scrap

B: Break

S: Structurally damaged repairable

N: Non-structurally damaged repairable
What are the different types of salvage categories and what do they mean?
CATEGORY A
Vehicles that have received extensive flood or fire damage and have no salvageable parts. Insurance companies have written off these vehicles and are not suitable for resale. It is required to be completely destroyed including all parts at an Authorised Treatment Facility (such as ours). This vehicle is a complete write-off by insurance companies. Only ATFs are legally permitted to handle such a vehicle. A Certificate of Destruction is created to notify the DVLA with the information also recorded with the HPI.
A category A insurance write off is a vehicle which is completely ruined, such as being burnt out, and all of its parts and shell should be crushed. These vehicles should not and cannot be used again on the roads again and are classed as a total insurance loss. Unfortunately, many category A vehicles have their identities stolen, such as log books, VIN numbers etc, and are used on stolen cars only to be identified when the stolen car is sold and the new owner tries to insure it.
CATEGORY B
Vehicles that have severe chassis and/or structural damage and have been written off by insurance companies. These vehicles are not deemed suitable for resale, are not roadworthy and deemed unsuitable for any repair work. Parts from these vehicles can be removed provided that the body shell is destroyed. Like Cat A vehicles it is only ATFs such as ourselves that can handle and process vehicles of this category.
A vehicle that has been assessed and branded as a category B write off should be crushed and never be allowed to return to the roads. However, if there are any 'good' spare parts on a category B car, they can be salvaged. Many of these vehicles are bought from the insurance company by salvage yards that will dismantle the usable parts from the cars and resell them as used parts.
CATEGORY E
A CAT E Vehicle is a Salvaged Vehicle which has been stolen recovered.
CATEGORY F
A category F insurance write-off is a fire-damaged vehicle that an insurer refuses to repair. However, vehicles branded a category F could be returned to the road after being extensively repaired and tested. Vehicles that have been stolen are also category F vehicles and as the insurer has made a total loss payment to the owner, even if the vehicle is identified again, the insurer is allowed to repossess the car from the new owner.
CATEGORY N
A category D vehicle has had less damage than a category S and is not structural but the cost of the repair is too high for the insurance company. The vehicle could be repaired and returned to the road, but in this category, it does not make financial sense for the insurer to be the one to foot the bill. Many vehicles fall into this category and are sold back to the owner to repair themselves, as the damage is often minor. Typically a Category N vehicle has been a salvaged vehicle which is damaged to the extent that the retail cost of repair to the vehicle does not exceed the retail pre-accident value thereof.
Vehicles that have sustained light damage but have been written off by insurance companies in-spite of the costs of the repair being less than the pre-accident value. These vehicles can be sold for repair and no VOSA Test is required.
Vehicles that are not owned by an insurance company and may have sustained accident damage. The vehicle is not governed by ABI categorisation guidelines and is unlikely to have been reported to the Motor Insurance Anti-Fraud Theft Register (MIAFTR).
CATEGORY S
Any vehicle written off as a category S vehicle would has been structurally damaged and not economically viable to repair by an insurance company. However, they can still be repaired and returned to the road by a company or individual, after being thoroughly checked and tested by an SVA test and an MOT.
Vehicles that have sustained heavy damage and have been written off by insurance companies. Costs of repair exceed the pre-accident value of the vehicle leading it to be classified in this manner. These vehicles can, however, be sold on for repair but it is required to take the vehicle for a VOSA Test to ensure that it can be driven safely and legally on the road again.
Category S is a salvaged vehicle which is classed as damaged to the extent that the retail cost of repair to the vehicle exceeds the retail pre-accident value thereof. Category S Vehicles are occasionally subject to a formal Vehicle Identity Check (or VIC for short) prior to being returned on to the road and as such will not come with a V5 (log book).
Before the changes to the UK categorisation system came into effect, repairable salvage was categorised as C or D depending on the cost of repair compared to the pre-accident value. This is no longer be the case under the new UK system as now the category will simply depend on the type of damage, without any comparison of the cost and value.
Salvage with damage to the structural parts (realignment to original dimensions or replacement of frame or chassis) of the vehicle will now be category S (S for Structural). As was the case of category C vehicle damage, insurers will still destroy the V5C registration document and so any buyers of a category vehicle will still need to apply to the DVLA (Driver and Vehicle Licensing Agency) for a replacement V5C. The replaced V5C issued by DVLA have the wording changed reflecting the new category definition, to: 'This vehicle has been salvaged because of structural damage but has been declared suitable for repair following a technical evaluation'.
CATEGORY U
Category U cars are what are known as "unrecorded insurance write-offs". This happens when the vehicle was involved in an accident of some sort but the damage wasn't reported to the insurance company as sometimes happens when the driver is uninsured. It also could be that a vehicle was stolen, the insurance company paid out to the owner after which the vehicle is subsequently recovered after payout.
A car could also be classified Cat U if the driver only had third party insurance and suffered an accident in which no one else was involved.
Vehicles that are not owned by an insurance company and may have sustained accident damage. The vehicle is not governed by ABI categorisation guidelines and is unlikely to have been reported to the Motor Insurance Anti-Fraud Theft Register (MIAFTR). It also means that the vehicle won't flag up on an HPI or some other vehicle history check as having been written off. Whatever damage there was has just been repaired, either through insurance or privately.
CATEGORY X
A Category X car is a stolen recovered vehicle which has been subject to an insurance claim. It may have only sustained minimal damage which was repaired in accordance with manufacturers specifications or in some cases nil damage. In this categorisation as per the Code of Practice for the Disposal of Motor Vehicle Salvage does not apply.
A category X vehicle is considered the most desirable of salvage category. Once the vehicle has been repaired there is no record of the initial damage and cars are not recorded on the HPI register. These vehicles are typically sourced directly from the manufacturer or rental companies who are unable to re-sell the vehicle as new or are unwilling to progress an insurance claim.
It is common practice for salvage dealers to report all salvaged cars and vehicles to MIAFTR, so all salvage categories will usually show up on vehicle checks.
Before you purchase any vehicle you should always check a car's history as it is vital to know if you are buying an insurance write-off. By purchasing a Vehicle History Check you can bring up the past data for the car's history and have peace of mind.
---